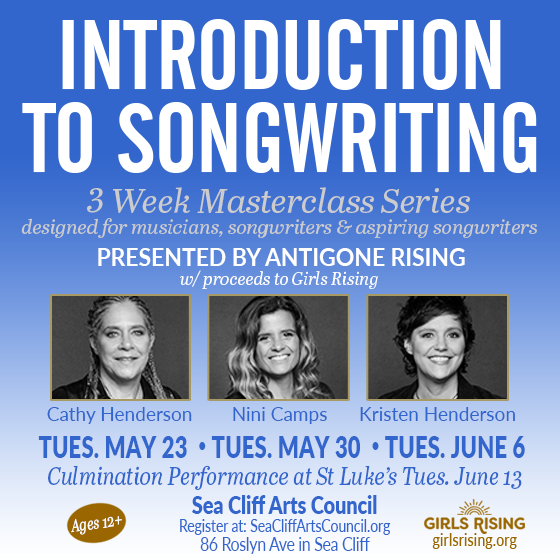 Girls Rising Presents
Introduction to Songwriting
Tuesday, May 23, 7 P.M.
Tuesday, May 30, 7 P.M.
Tuesday, June 6, 7 P.M.
Tuesday, June 13, 7pm - Culmination Performance
Immerse yourself in the art of songwriting! It's never too late to write a song and once you have done that, honing your songwriting skills becomes a lifelong journey. In this workshop you will be given the tools and guidance to communicate and share your unique songwriting voice and we will deep dive into how melody, rhythm, harmony, and lyrics are woven together to create a powerful, meaningful song.
This course is designed for musicians, songwriters and aspiring songwriters.
At the end of the 3 sessions each participant will have the opportunity (optional) to perform their completed song during our culmination concert on the St. Luke's stage.
Instructors: Cathy Henderson, Kristen Ellis- Henderson and Nini Camps from Girls Rising a not for profit 501(c)(3) founded by all female rock band Antigone Rising.
Scholarships for this Masterclass are available, for more information email: info@girlsrising.org
Supplies Needed:
·      notebook or laptop/tablet for writing and note talking
·      your preferred instrument OR laptop/tablet with music creation software
·      there will be a few keyboards available for piano players, first come first serve